A Presidential Range Fiasco (or attempted traverse)
December 26-28, 1996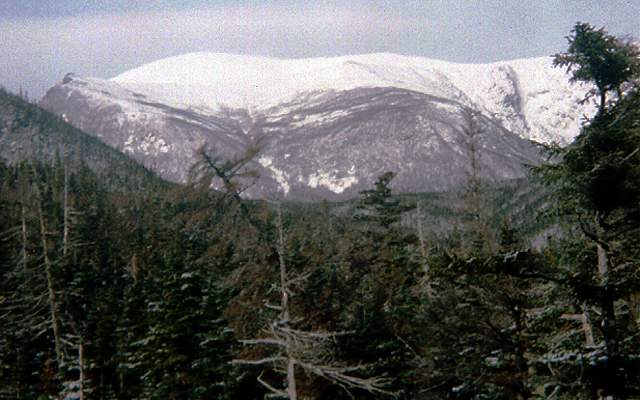 For Christmas 1996, my brother John and I planned a circuit in the Presidentials of New Hampshire. From Pinkham Notch we were to go via Boott Spur up to Mt. Monroe, across Mt. Washington, Clay, Jefferson, Adams, Madison, and back to Pinkham. We knew this to be no simple undertaking and prepared for at least four days beginning December 26. At the Pinkham Notch Visitor Center on Christmas Day, 1996, a group of European climbers asked why we had come to New Hampshire to climb instead of the "big" mountains out west. At that time neither my brother nor I could provide a satisfactory answer. Three days later our response would have been full of awe and respect for the "big" mountains of New England . . .
After oversleeping Thursday morning we left Pinkham about 10:00 a.m. The hike up was uneventful so I'll skip ahead to the late afternoon. We called a halt at a wide flat area around 3:45 p.m. as visibility dropped to about 150 feet. We believed ourselves to be much farther down the slope than we in fact were and the deceptively light wind made us believe our spot was semi protected. We set up the tent and got into our sleeping bags to slowly warm up and "set up house." About 8:00 p.m. I had just started to melt snow on the stove in the vestibule when the wind hit with a vengeance. One huge gust ripped the vestibule loose and immediately covered everything in fine powder snow as John and I tried to safely shut down the stove -- cooking was out of the question. The wind continued meaning little sleep as the tent seemed to be on the verge of blowing away all night. Sometime after midnight I realized our mistake when I used my G.P.S. to locate our position. I couldn't help but laugh when I saw that we were ON TOP of Boott Spur (5500 feet). By 3:00 a.m. we figured that we would survive the night and made the decision to head on to Lake of the Clouds to sort ourselves out after first light.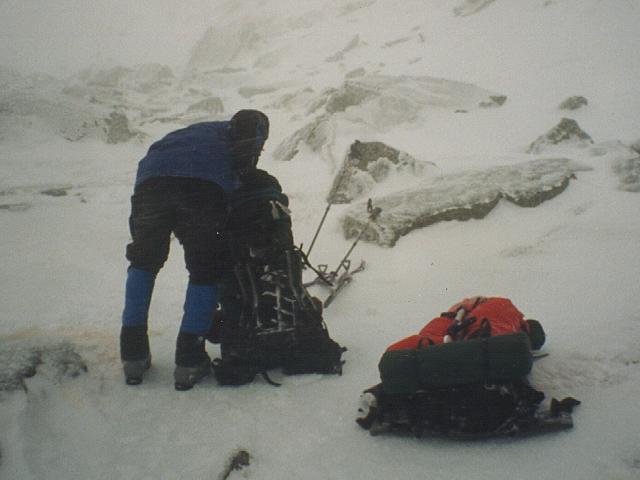 Beginning around 7:00 a.m., after a breakfast of crackers and cheese, we dressed completely while still partly in our sleeping bags (we had been comfortably warm throughout the night in them). We then pulled our packs into the tent and packed everything until only our bags were left. Next I went outside with my camera to photograph the tent and to take off the fly. Visibility had dropped to maybe 50 feet, the temperature was somewhere below zero, and the wind was steady at about 60 mph. My camera was too cold to operate (the photo above was taken later after warming it inside my parka) so I went back inside for a last bit of warmth in my bag. When we felt all was ready we went outside and began taking down the tent as quickly as possible. Working in BD climbing gloves we accomplished the task in 15 minutes and were on our way by 9:15 a.m. It was a fight from the beginning and the cold and wind seemed to get worse. Our hands had become seriously cold packing away the tent and the wind made standing almost impossible; let alone walking up moderate slopes over rough, icy ground. A few hundred meters from our bivy site we reached the first trail junction (and first indicator of our near desperate state). We had both studied the map intently and had spent a while on the terrain board at Pinkham but didn't know left from right at that point -- we turned south on Davis Path trail when we should've gone north. Before long I had lost feeling in both hands and John told me his hands were in a similar state. The thought crossed my mind of just laying down on the ice and tucking my hands under my parka until they warmed but I think that was the cold affecting my mind. We continued to follow the line of cairns down and, as we worked, (work's the best term for moving in that wind) our hands slowly warmed bringing on the familiar pain of returning circulation. As we descended the wind lessened while the visibility began to increase slightly.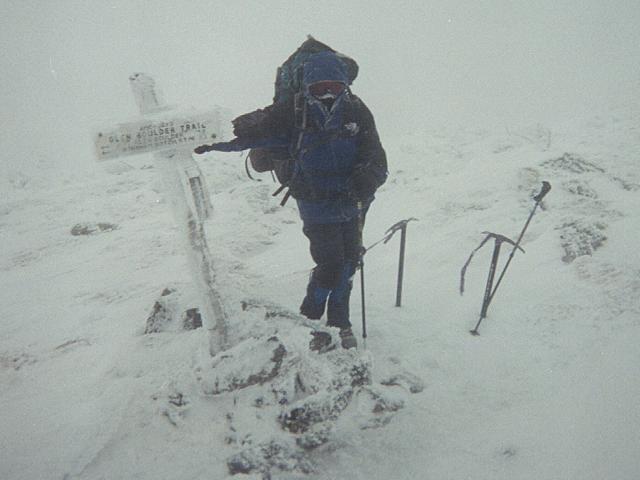 We reached a signed junction on the trail and after chipping the foot thick layer of ice off (no exaggeration), I pulled out the map and discovered our wrong turn. We were at the intersection of Davis Path and Glen Boulder trails. We knew that to continue with our plan (to go to Lake of Clouds) would mean going back up into that wind -- something we didn't quite relish. So we decided we had "learned enough for one trip" and would continue on the Glen Boulder trail, camp early somewhere below treeline, and hike out the next day.
Sometime around noon the sky began to clear on a beautiful day and the slope seemed to become more icy. This caused us to take the time to do something we should have done when we left camp -- put on our crampons! We took our first real break of the day just into the treeline below Slide Peak. We continued down through fairly deep (up to 2 feet) new snow and slopes steep enough to do effective plunge steps. After passing through nifty boulder fields above Glen Boulder we found a perfect bivy spot close by the trail sandwiched between a large boulder and a short, steep slope. We leveled it out, set up camp and began to replenish ourselves after a day and a half of only crackers, cheese, fruitcake, and granola bars (not to mention little water). After watching the stars in the clear night sky we went to sleep around 7:00 p.m.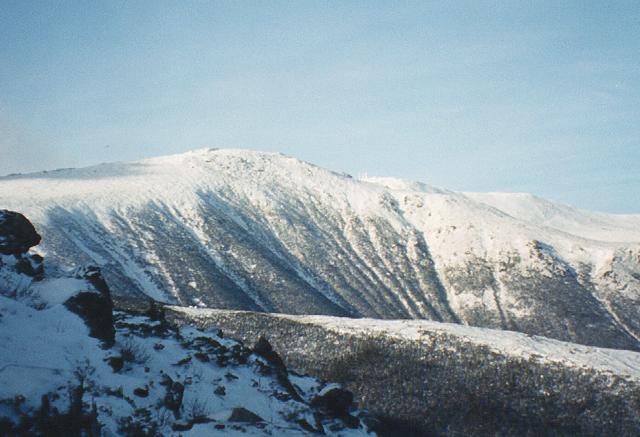 Saturday morning was overcast but warmer. We ate a breakfast of oatmeal and hot chocolate and packed up camp at a leisurely pace. On the trail at about 10:00 a.m., we were soon down near the road (Rt. 16) when a little snow began to fall. It wasn't enough to hamper us though and we were back at Pinkham by noon.
The "moral" of the story? Well, I guess there were really three points driven home to us on this trip. First, timing is critical. Had we left on time Thursday morning (around 8:30 a.m. at the latest) we would have been in a much better position by the time darkness closed in. The second point is navigation. We should have forced ourselves to consult map and compass at least at every halt. These would have prevented our night in an exposed position and probably would have meant success. The last point is one that we knew but bears repeating -- the Whites in winter are serious mountains . . .
---