Mt. Audubon December, 1995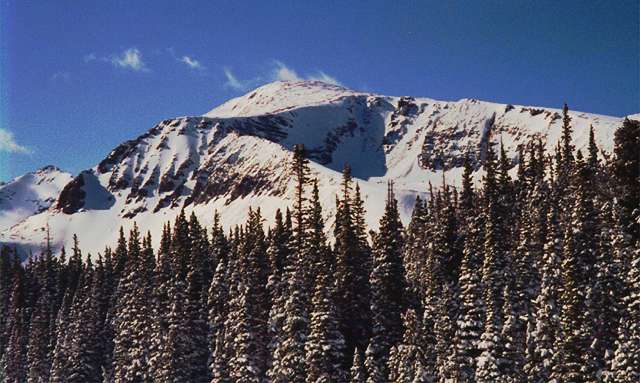 The week before Christmas of 1995 I pointed my jeep west where I picked up my brother John in Texas and headed to Colorado where my brother Robert was waiting to do some mountaineering. Our intent was to spend three days in the Indian Peaks area with the goal of climbing Mt. Audubon (by the little ridge in the center of the photo above) and possibly attempting another of the adjacent peaks. Our plan was flawed from the beginning. I should have known better than to expect myself to drive more than halfway across the country with no sleep, head straight up to an altitude ten thousand feet higher than my home, and climb a mountain I'd never seen previously. My brothers were in little better shape -- it had been a busy time for John and Robert had been working a lot of extra hours to get time off for this trip...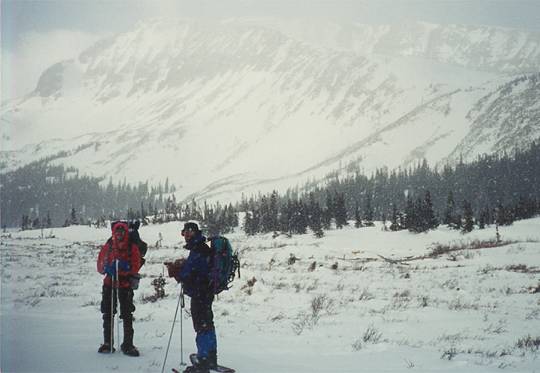 Our first day all we wanted was to hike in and get a camp set up before dark. We were overloaded, weak from lack of sleep, and the road was closed short of where we expected. As a result, darkness forced us to stop two miles from our planned camp where we set up home with the aid of headlamps. After a shortened night's sleep we decided to give up on the other peaks and focus solely on the little ridge on Audubon. The morning of the second day we headed out on a recon and barely got to the base of the ridge when nature decided that what we needed now was a little more snow, wind, and cold. We retreated back to camp and spent the rest of the day finally recovering from our lack of sleep.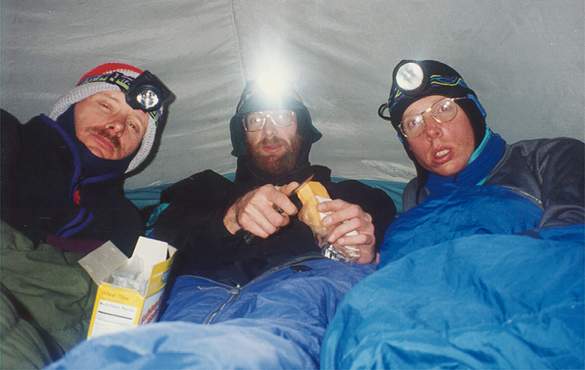 Three brothers "male-bonding" mountain style (that's me in the center above, uh, cutting the cheese). If you think that sounds crude, just ask how we warmed up that cheese to make it pliable. I believe I'll leave that one to your imagination...
The weather broke during the night and we all emerged after fourteen hours in the tent to what I would like to call one of the most magnificent night skies I have ever witnessed. In reality though, it was just the same old magnificent night sky people in the mountains have been enjoying for millennia. Anyway, after a short discussion of our current situation and the new avalanche hazard from almost two feet of fresh snow we decided that the summit of Audubon was not to be ours. We slept late that morning (until 6am) and awoke to a day that rivaled the past night in sheer magnificence. The photo above (taken around 9am as we hiked out) does not depict the feeling though; it's hard to accurately capture a temperature of -5 degrees (Fahrenheit) on film...
---