We picked Eiffel Peak as an acclimatization climb and a warm up for the week ahead. It rises over the left side of beautiful Larch Valley on the way up to Sentinel Pass.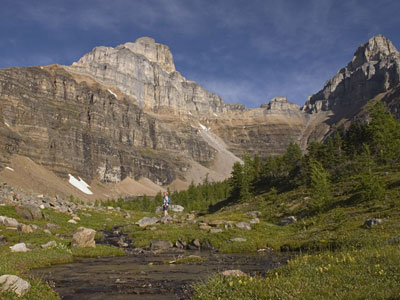 This is grizzly bear country and a mother and cub had been seen passing through weeks earlier so bear restrictions were in effect. This meant travelling in groups no smaller than 6*. We waited at the trail head for a while and linked up with another group of 5 and were set.
*The reasoning -- there have been no documented cases of a bear attacking people in groups of 6 or more.
| | | |
| --- | --- | --- |
| | | The climb is a rubbly scramble to a broad summit with views of Paradise Valley to the North and Larch Valley and Valley of the Ten Peaks to the South and Southeast. |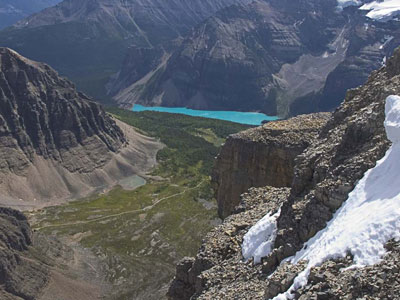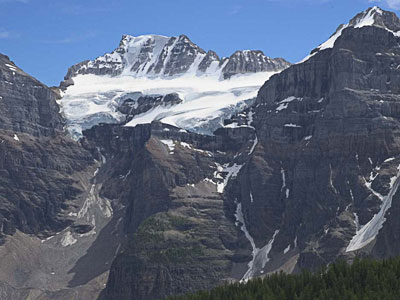 The summit is capped by one of the more ambitious cairns I've seen; we took our time there with the register, and the views.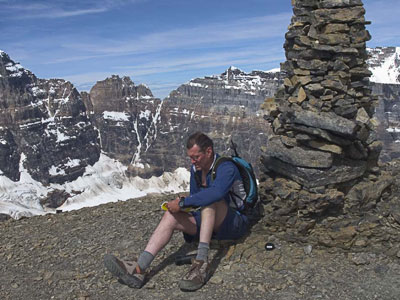 The mid-day Sun loosed snow on Mt. Lefroy and sent it rumbling down slopes to sheer drops. Fortunately we observed this from a relatively safe distance -- 2 miles. The Sun also provided a good view of the giant Mt. Temple opposite us over the pass. We planned to return to attempt it before week's end.