Mt Lady MacDonald was intended to be a warm-up and acclimatization climb to prepare for things to come later in the week. Of course we also wanted not to waste our time so we looked for peaks that were interesting, fun, a bit challenging, and provide good views. Lady MacDonald was all of these.


Starting out besides condos on the edge of Canmore, the trail soon gains the ridge that takes one eventually right up to the summit ridge. Above the trees it is the usual scree slope; disheartening on the ascent but almost fun coming down. We took a break for the views at the site of a long unfinished teahouse -- the foundation and basement are there but little else. It's a shame; it would have a good view and be a nifty destination so close in to town. The final few meters up to the summit ridge are over slopes of mostly bare rock that provide good friction but little challenge (at least to a wimpy climber like me).

| | | |
| --- | --- | --- |
| | | Once on that ridge the real fun begins. My GPS told me that we were exactly 2/10 of a mile from the true summit and the ridge in between varied from maybe two meters to less than two centimeters. |
At times we walked, sometimes we traversed just below the ridge with hands on the top, occasionally we walked a quick tightrope on narrow sections.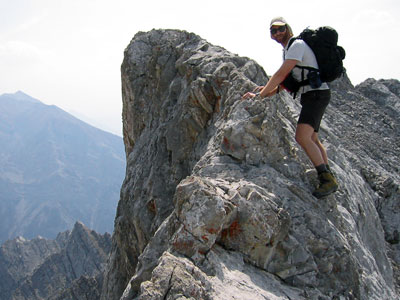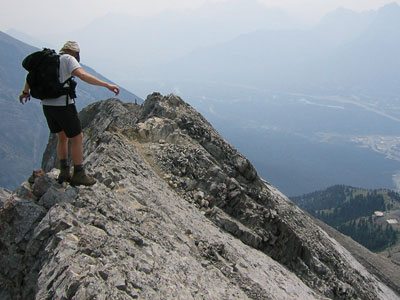 Eventually we were at the summit for the anticipated views, a lunch break, and the trip back along that ridge the way we'd come.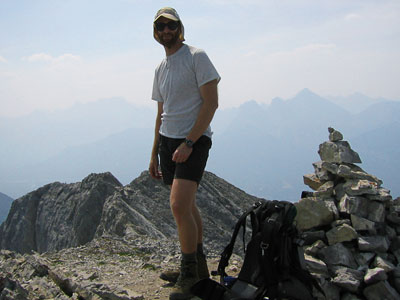 This climb also marked a turning point for me -- into the realm of digital photography. I carried my Nikon N90s in my custom chest harness that had seen so many miles, but I also carried my brand-spanking-new Canon Powershot S230. As it turned out, that was the last roll of film I shot.