Huntington Ravine, Mt Washington, NH
December 3 & 4, 1999
(click on each image to see a larger version -- approx 1024X768)
---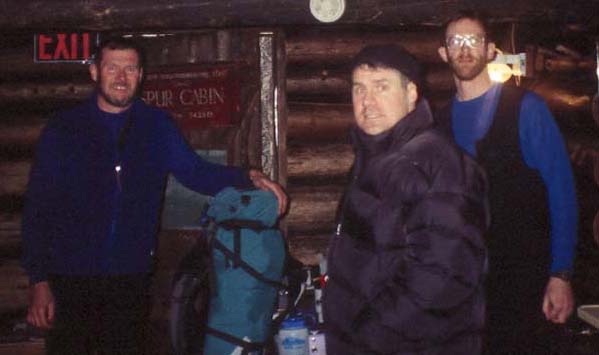 John Smith, Ted Plasse, and I (Mack Muir) decided to get in a little early season Ice in Hunting Ravine.
We hiked up to the Harvard Cabin after dark on Friday afternoon only to be greeted with a thermometer that read 38 degrees.
Our intention was to do Central Gully then maybe try for the summit but when we awoke the next morning the temperature had risen to 40.
| | |
| --- | --- |
| We went on up into the bowl anyway to find it a strenuous bushwack without snow and the only ice to be found looked too dangerous to contemplate. We decided to hike out and catch an early flight home knowing there was still plenty or winter left. | |
---